INSTALLATION OF THE NEW PROVINCIAL
On : 26-Sep-2020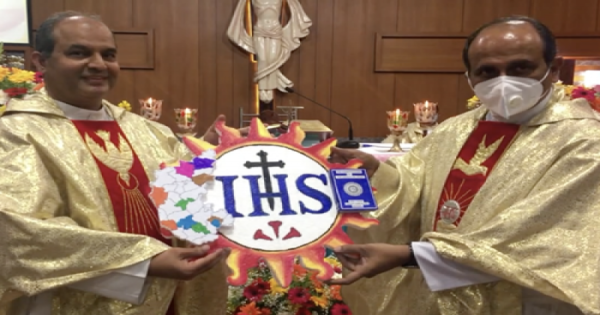 Fr Stanislaus D'Souza handed over the mantle of leadership of Karnataka Jesuit Province to Fr Dionysius Vaz on September 26, 2020, the eve of the 480th anniversary of the approbation of the Society of Jesus. The solemn Eucharist held at Inigo Sadan chapel began at 6.00 p.m. While over 50 Jesuit representatives from various communities attended in person, over 2000 persons participated virtually in the event which was streamed live on YouTube.

Fr Stany began the Holy Eucharist with sentiments of thanksgiving for all that God had achieved in and through him in the past six years and a half. Fr Joe Mathias in his thought-provoking homily elaborated the concept of Christian leadership and the virtue of love. After the homily Fr Stany read the appointment letter sent by Fr General and formally handed over the responsibility to the 13th provincial of the Karnataka Province, Fr Dion with the symbolic presentation of the monogram of the Society of Jesus alongside the symbols of the Constitutions of the Society and the map of the province on either side. Fr Dion then continued the celebration of the Mass.

The Eucharist was followed by a short felicitation function compered by Fr Arun Kumar. Firstly, Fr Stanislaus D'Souza was felicitated with a shawl, a garland, Mysuru peta and a plant as a symbol of gratitude for his immense contribution towards the growth and care of our province. Then, Fr Dionysius Vaz was welcomed in a similar manner and was wished well for his new ministry. Fr Joseph Lobo in his well-scripted toast enumerated the gifts of both these men and wished them well with an apt message for each, as they embark on their new journeys as Major Superiors. Fr Anand Pereira, RDD and consultor of Kohima Region was present as the representative of the Regional Superior and expressed his sentiments on behalf of the entire region with his words of love and appreciation. Frs Stany and Dion took turns to share their feelings. They thanked all those who had accompanied and helped them in their journey and sought prayerful support for future mission.

Fr Olvin Veigas and Sch Nithin Coelho rendered technical assistance in airing the programme online.