Directors of work come together for 'Jesuit leadership'
On : 22-Aug-2022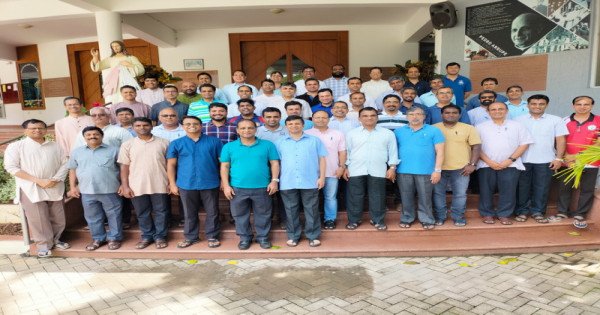 Directors of work (DOWs) of Karnataka province met in Fatima Retreat House on August 20-21 for a two-day training programme. The theme of the two-day session was Jesuit Leadership.
Fr Melwin J. Pinto, Rector of St Aloysius Institutions made a presentation on what it means to be a Jesuit leader – its challenges and opportunities. He made a distinction between core identity and role identity of a Jesuit. "While our collaborators may stress their role identity, what differentiates us Jesuits is our core identity," he said. He also added that "if our character lacks moral and spiritual integrity, our effective leadership skills have no impact."
He further enumerated various aspects that characterise Jesuit leadership. He differentiated between a leader and a manager quoting author Robert Heller that "A leader looks at the horizon, while a manager looks at the bottom."
Former MLA of Mangalroe South J R Lobo made a presentation on the present Indian reality and how Jesuits could respond. He said that it was important for Christians to unite to counter the communal forces. "Otherwise, the coming days are going to be very difficult for us," he said. Accepting that the Congress lacks unity in the party, Mr Lobo said that it was important that opposition parties unite to fight the BJP. He also said that he had presented a vision to foster Christian leadership with several Christian leaders, but it was yet to be realised.